Jesus Capetillo
from Paulo and Bill Restaurant
Pan Seared Halibut With Shallot Cream, Cranberry Risotto And Asparagus
Posted: 07/7/2016
INGREDIENTS:

4-six ounces pieces of fresh Halibut
Asparagus
Salt & Pepper to taste
Shallot cream
1 c. of white wine
2 shallots chopped
1 c. whipping cream
1 tbsp. sour cream
Salt and pepper to taste
Risotto
1 c. risotto
2 tbsp. butter
½ onion-diced
2½ c. water
½ c. chicken broth
¼ c. dried cranberries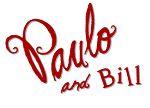 INSTRUCTIONS:

Dry 4-six ounces pieces of fresh Halibut-salt and pepper to taste and refrigerate until ready to cook.

Reduce wine and shallots to approximately ½ cup over low heat. Add whipping cream and sour cream and reduce to desired thickness. Salt and pepper to taste.

Warm chicken broth over medium heat and add cranberries. Set aside.

Sauté risotto, diced onion and butter for 5 minutes over medium heat. Add water and boil for 10 minutes. Turn off heat, but let the pan sit on the burner for 2 minutes more, add broth and cranberries, stir and keep warm.

Pan Sear Halibut in 2 tbsp. of peanut oil or canola oil in a hot pan. Sear first side for 2 minutes and second side for about 1½ minutes. Finish in a 350 degree oven for about 5 minutes.

Blanch Asparagus for 1 minute, grill for 2½ minutes.
Cook Time: