Broadmoor Bistro
from The Broadmoor Bistro
Tagliette Pasta
Posted: 08/3/2017
INGREDIENTS:

8 oz Fresh Pasta "Tagliette"
Sauce:
4 oz Bacon, cut into lardon
1 oz Garlic, Fresh Shaved
3 oz Shallot, Minced
4 oz White Wine
8 oz Heavy Cream
2 oz Parmesan Cheese
Garnish:
4 oz Asparagus Blanch & Cut
1 oz Scallion, sliced thin
TT Black Truffles, minced or shaved
TT White Truffle Oil
TT Asaigo, shaved
1 ea Soft Poached Egg
TT Salt and Pepper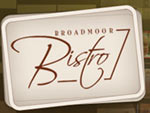 INSTRUCTIONS:

1. Have boiling water ready to cook pasta
2. In a medium saute pan, render the bacon until lightly golden brown.
3. Add garlic and shallots to pan and sweat.
4. Add wine and reduce the liquid by 75%
5. Add the heavy cream and reduce the liquid by 50%
6. Add the parmesan cheese and stir until melted
7. ** Place pasta in the boiling water and cook until "al dente"
8. To your sauce pan, add the asparagus, scallion, and truffle oil
9. Season with salt and pepper
Plating:
1. Twist pasta with a plating fork and place in the middle of your plate, creating a nice nest for your egg.
2. Place your poached egg in the center of the pasta
3. Garnish with asiago and truffles
4. Serve immediately, while hot
Cook Time: