Eggplant Caprese Salad
from Cascone's Restaurant
Eggplant Caprese Salad
Posted: 02/3/2016
INGREDIENTS:

SALAD PREPARATION:
1 bag arugula
1 ball fresh mozzarella
1 ripe large tomato
Fresh shaved parmesan
Good balsamic dressing
Fried eggplant
FRIED EGGPLANT PREPARATION
1 large eggplant cut in ¼ inch rounds
1/3 c. cornstarch
1 egg beaten
2/3 c. Italian bread crumbs
Vegetable oil
Salt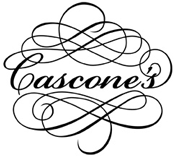 INSTRUCTIONS:

EGGPLANT: Pat the eggplant dry after it is sliced. Salt the eggplant lightly, then set up your breading station in three glass bowl, first cornstarch, then egg, lastly bread crumbs. Coat each round in cornstarch, then egg, and finally bread crumbs pressing them on the rounds. Let each breaded round dry slightly on a lined baking tray. Use a large skillet, and fill it with 1/2 inch of vegetable oil. Using a thermometer heat oil to 375 degrees, fry rounds for about a minute (depending on the thickness of the eggplant) on each side, until golden then transfer back to lined tray.
SALAD: Dress arugula with dressing. Top dressed greens with layers of eggplant, tomato slices and mozzarella slices. Garnish with shaved parmesan. Enjoy!
This salad makes a delicious lunch or dinner! The creaminess of the cheese and the crunch of the eggplant are so divine! A nice glass of Malbec makes a lovely companion!
Cook Time: