Dan McCall
from District Pour House and Kitchen
District Mussels
Posted: 12/3/2015
INGREDIENTS:

-1 pound mussels, live or cooked frozen
-1 ounce of diced prosciutto or bacon
-2 ounces of olive oil
-1 medium shallot, minced
-1 garlic clove, minced
-1 small pear, sliced thin (core removed)
-1 sprig of rosemary
-2 ounces white wine
-4 ounces heavy cream
-1 tablespoon butter
-1 teaspoon stoneground mustard
-1/2 teaspoon Kosher salt
-1/4 teaspoon fresh cracked black pepper
Garnish with fresh chives, lemon wedges, and toasted French baguette.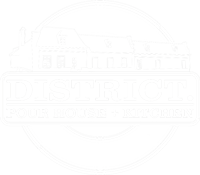 INSTRUCTIONS:

Rinse the mussels in cold water to remove excess grit and strain from excess water. Discard opened mussels.
In a medium sauté pan heat the olive oil on medium-high heat. Render the bacon or prosciutto until slightly crisp. Add the shallots, garlic, pears, rosemary, and S&P. Cook until the garlic is fragrant, about 2 minutes. Add the white wine, heavy cream, butter, stoneground mustard, and the mussels. Cover the pan and cook on medium-high heat for 6 minutes or until all the mussels are open. (Optional: for a creamier sauce, remove mussels from the pan and reduce the liquid until desired consistency is reached)
Cook Time: 6 minutes