Brian Aaron
from Tannin Wine Bar and Kitchen
Heirloom Tomato Salad With Pesto Vinaigrette And House Pulled Mozzarella
Posted: 08/4/2015
INGREDIENTS:

Serves 4

Fresh Arugula
4 ea. Local Heirloom Tomatoes (available at most farmers' markets)
Salt and Pepper to taste

Pesto Vinaigrette
2 c. Fresh Basil
1 ea. Garlic Clove
1 c. Extra Virgin Olive Oil
1/2 c. Grated Parmesan
1/4 c. Toasted Pine Nuts
1 c. Balsamic Vinegar
--Puree all ingredients in a blender until smooth.

Pulled Mozzarella
1 gal. Hot Water (180 Degrees)
2 c.Salt
1/2 lb. Mozzarella Cheese Curd
--Heat the water and salt together and pour over 1" cubes of mozzarella
cheese curds. When the cheese is soft, pull the cubes into spheres until
the cheese becomes firm.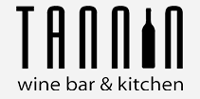 INSTRUCTIONS:
For Plating:

Slice the tomatoes and season each slice with salt and pepper. Arrange on
a plate and garnish with arugula (or any green or lettuce available,
watercress is also one of my favorites.) Drizzle with the pesto
vinaigrette and add the fresh pulled mozzarella. Any leftover cheese or
pesto can be refrigerated for up to five days.

Cook Time: