Chris Carle
from Coach's Bar & Grill
Fresh Pickles
Posted: 08/5/2014
INGREDIENTS:

6 English cucumbers sliced diagonally (or 12 pickling cucumbers for spears)
2 c. Rice vinegar
2 c. Water
2/3 c. White wine vinegar
¾ c. Sugar
¼ c. Kosher Salt
8 Cloves Fresh Garlic (chopped)
2 Bunches Fresh Dill
½ tsp. Cumin Seed
½ tsp. Fennel Seed
½ tsp. Dill Seed
½ tsp. Mustard Seed
½ tsp. Red Pepper Flakes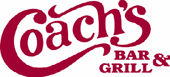 INSTRUCTIONS:

Slice Cucumber diagonally (17-20 per cucumber) each about ¼ inch thick. Sprinkle with 1 tsp. kosher salt and allow to sweat for about an hour. Drain water from cucumbers. Heat up vinegars, water, sugar and salt. Stir and simmer until dissolved. Add garlic and spices, let steep for 5 minutes. Pour over cucumbers, lay dill on top and press onto pickles. Cover and chill overnight. May be stored in refrigerator for up to two weeks.
Cook Time: