Pan Roasted Scottish Salmon with Toasted Pine Nut Couscous and Avocado Puree
from Tannin Wine Bar and Kitchen
Pan Roasted Scottish Salmon With Toasted Pine Nut Couscous And Avocado Puree
Posted: 03/4/2014
INGREDIENTS:

4 ea.- 6 oz. Scottish Salmon Filets
2 Tbsp. Olive Oil
2 c. Water
1 ea. finely diced Red Bell Pepper
1 Tbsp. chopped Thyme
½ c. Pine Nuts (toasted)
1 Tbsp. finely diced Garlic
¼ c. Cream
1 c. Medium size Couscous
1 Tbsp. Butter
1 Tbsp. chopped Parsley
1 Tbsp. chopped Chives
2 ea. Avocados (ripe)
½ bunch chopped Cilantro
Salt & Pepper to taste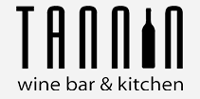 INSTRUCTIONS:

For the Salmon:
Season the Salmon Filets with salt & pepper. Sear in Olive oil in a non-stick pan on medium-high heat for 3-4 minutes on each side.
For the Couscous:
In a small pot, add cous cous, water and butter; bring to simmer. When all of the water has been incorporated, fluff the cous cous with a fork and fold in the diced bell pepper, thyme, chives and toasted pine nuts. Season the cous cous with salt and pepper.
For the Avocado Puree:
In a food processor, add the avocado, lemon juice, chopped garlic, cream, cilantro and season with salt & pepper to taste. Puree the mixture until smooth.
Arrange all items on a plate and garnish with various herbs or infused oils. This dish pairs well with a Sauvignon Blanc or Grüiner Veltliner. Cheers!
Cook Time: