Anthony's Restaurant & Lounge
from Anthony's Restaurant & Lounge
Frozia
Posted: 04/2/2012
INGREDIENTS:

6 eggs
1/2 cup milk
½-1 cup (a handful) Italian cheese, such as mozzarella
1 diced tomato
1/2 cup potato
1/2 cup cauliflower
1/2 cup asparagus
1/2 cup broccoli
2 tablespoons onion
1 teaspoon minced garlic
2 tablespoons olive oil

Spices to taste: dash of crushed red pepper, black pepper, and salt.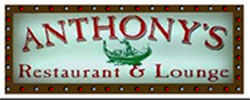 INSTRUCTIONS:

Mix eggs, milk, cheese, red pepper, black pepper, and salt thoroughly in a bowl.

Heat skillet on medium-high. Add 1 tablespoon olive oil to coat bottom of pan. Cut vegetables and saute in skillet until slightly tender. Remove vegetables from skillet and set aside in a bowl.

Heat oven to 350 degrees. Spray skillet with non-stick cooking spray and then add remaining olive oil. Pour egg mixture into skillet on medium temperature, adding diced tomatoes and stir. Next, add vegetables and make sure they are covered with egg batter. Put skillet in the oven and cook until egg batter is baked and maybe a little spongy. Approximately 20 to 25 minutes.
Cook Time: 20 to 25 minutes