Chef Vito Tovar
from The Phoenix
Champagne Fish And Chips
Posted: 08/31/2011
INGREDIENTS:

Champagne Batter
1 cup flour
1 cup cornstarch
1 teaspoon salt
1 teaspoon sugar
½ teaspoon white pepper
2 cups inexpensive Champagne
½ cup tonic
(2) 4-ounce pieces of haddock
Additional flour for dredging
2-3 large sprigs of fresh basil for garnish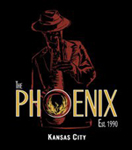 INSTRUCTIONS:

Chef Vito Tovar's Champagne-based batter adds a touch of sweetness to the crisp, tempura-like batter for this fish and chips recipe served at The Phoenix. Tovar prefers using haddock but cod can be substituted.

Mix all ingredients well to desired consistency. If too thick, add more tonic. If too thin, add more cornstarch. Heat oil to 375 degrees in a large pot. Lightly dredge fish in flour and then add to wet batter. Slow slide battered fish into oil. Cook 4-5 minutes or until golden brown. Remove from oil. Serve with French fries and garnish with fresh chopped basil.

Cook Time: