Carlo's Copa Room
from Carlo's Copa Room
Pork Chop Spiedini
Posted: 10/1/2010
INGREDIENTS:

8 ounce boneless pork chop
1 cup linguini
Homemade Italian seasoned breadcrumbs
Pinch of salt and pepper
3/4 cup extra virgin olive oil
¼ cup butter, melted
3 teaspoons fresh parsley, chopped
3 teaspoon fresh basil, chopped
Pinch crushed red pepper
¼ cup vegetable stock
¼ cup white wine
½ cup Pecorino Romano cheese
5 grape tomatoes, cut in half
4 garlic cloves, minced
Juice of one lemon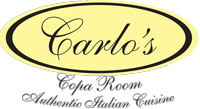 INSTRUCTIONS:

Marinate Pork Chop:
Mix ½ cup extra virgin olive oil, ¼ cup lemon juice, 2 minced garlic cloves, pinch salt and pepper together. Use half of this to marinate pork chop for at least an hour. Set aside other half of marinade.
Adding Bread Crumbs:
Combine ½-cup breadcrumbs, ¼ cup Pecorino romano, pinch salt and pepper, a teaspoon of fresh parsley, and a teaspoon fresh basil. Roll marinated chop in the breadcrumbs. Grill pork chop to 155 degrees.
Pasta:
Combine in a medium skillet olive oil, melted butter, white wine, vegetable stock, pinch crushed red pepper, 2 minced garlic cloves, 2 teaspoons fresh parsley. Place in skillet on medium-high heat. When it starts simmering, add tablespoon pecorino romano. Toss in cooked linguini and grape tomatoes. Place in pasta bowl, top with grilled pork chop spiedini and drizzle the other half of the marinade over the top of the chop. Garnish with fresh chopped basil.

Cook Time: