Blanc Burgers + Bottles
from Blanc Burgers + Bottles
Surf + Turf Burger
Posted: 01/1/2010
INGREDIENTS:

1, 8-ounce Kobe beef burger
1 lobster tail, shelled, poached in court bouillon* and reserved
1 fennel bulb, sliced thin
3 stalks asparagus, blanched and thinly sliced
leaves from celery hearts
sherry vinaigrette (may substitute favorite vinaigrette)
lobster butter (may substitute unsalted butter)
brioche bun
tarragon aioli** (may substitute mayonnaise or favorite spread)
salt and pepper to taste
vegetable oil as needed

Court Bouillon Instructions:
Cook this 'short stock' for 30 minutes to infuse flavor, then adjust the temperature to 180 degrees and poach lobster tails whole, for three to four minutes, until medium rare. Reserve stock.
COOK & PREP TIME: 1 hour and 20 minutes, including stock


Tarragon aioli instructions:
Combine all ingredients. This is best if made the day before.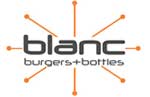 INSTRUCTIONS:

Season burger well on both sides, grill until preferred temperature (medium-rare is best). In the meantime, add a splash of oil in a hot pan and caramelize the sliced fennel until golden brown and cooked through, but not mushy. Reserve for burger.
Thinly slice blanched asparagus and put into a mixing bowl. Add celery leaves, season with salt and pepper and toss with the vinaigrette. Reserve.
When the burger is almost done, put the lobster tail on the grill to warm through. Baste with the lobster butter while grilling.
Assembly: Dress both sides of bun lightly with tarragon aioli. Place some fennel on the bottom bun. Top with Kobe burger, followed by the lobster tail. Arrange the asparagus salad on top and serve immediately.

*Court Bouillon Ingredients:
1 gallon water
1 cup white wine
1 lemon, sliced
1 onion, large dice
1 carrot, peeled and diced
2 stalks celery, chopped
2 cloves garlic, smashed
2 bay leaves
few sprigs fresh thyme
1 teaspoon salt
1 teaspoon pepper

**Tarragon aioli ingredients:
1 cup mayonnaise
2 tablespoons fresh tarragon, chopped
salt and pepper to taste

Cook Time: