Lulu's Thai Noodle Shop - Crossroads
from Lulu's Thai Noodle Shop - Crossroads
Mee Grob
Posted: 11/1/2009
INGREDIENTS:

Makes 4 servings
1 package rice stick noodles (vermicelli)
2 cups oil
3 1/2 ounces fresh tofu cut into strips or small squares
1 red bell pepper, thinly sliced
1/2 cup scallions, chopped into 1/2 inch pieces
2 cloves fresh garlic, minced
1 piece fresh ginger, minced (approx. 1 inch)
4-5 ounces chicken or pork, minced
3 1/2 ounces shrimp, whole or minced
1 tablespoon white vinegar
2 tablespoons fish sauce
2 tablespoons soft brown sugar
2 tablespoons chili sauce (can use commercial)
1 teaspoon Thai chilies, chopped
1 cup fresh cilantro, chopped
*additional whole cilantro leaves as garnish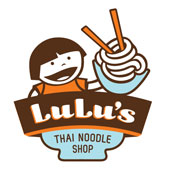 INSTRUCTIONS:

Heat oil in a wok or large deep pan. Add tofu in two batches. Cook for 1 minute or until golden brown. Set aside and drain any remaining oil.
Bring oil back up to temperature. Add rice stick in several batches. Cook 10 seconds or until puffed and crisp. Remove and drain thoroughly.
Remove all but 1 tablespoon of oil from the wok. Reheat wok over high heat. Add garlic, ginger and any raw proteins. Stir-fry for two minutes or until golden brown. Add tofu, vinegar, fish sauce, brown sugar, chili sauce and Thai chilies; stir until boiling. Add scallions and red bell peppers and toss. Add noodles and toss thoroughly and quickly. Add cilantro. Remove from heat and serve immediately.
Prep time: 30 minutes

Cook Time: 20 minutes