Cascone's Restaurant
from Cascone's Restaurant
Crazy Alfredo
Posted: 09/1/2009
INGREDIENTS:

6 large shrimp
2 Italian sausage cooked
6 ounces diced cooked chicken breast
3 ounces sundried tomatoes, sliced
2 ounces of jalepeno or pepperocini, sliced
2 ounces butter
1 1/2 cups of heavy cream
1/2 a cup of parmigiana cheese
salt and pepper to taste
12 ounces cooked fettucini pasta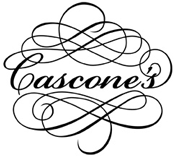 INSTRUCTIONS:

Makes 2 servings

In a large skillet, combine butter, shrimp, sausage, chicken, sundried tomatoes, and peppers. Cook on medium heat untill shrimp is pink. Add heavy whipping cream and then bring to a boil. Toss in the cheese and fettucini pasta. Cook five to 10 minutes until hot. Add salt and pepper to taste.
Cook Time: